 Farmers Market Hours and Location
Saturdays 7am – 12 noon (year round)
501 Yanceyville St., Greensboro, NC
Located on the corner of Lindsay St. and Yanceyville St.
across from the War Memorial Stadium.
The Market is an indoor facility with free admission, WiFi,
and plenty of free parking as well as an ATM on site
501 Yanceyville St, Greensboro, NC 27405
Saturdays 7 a.m.-12 noon (year round) Wednesday 8 a.m.- 1:00 p.m. (April 20 – December 28) 501 Yanceyville St., Greensboro, NC
Local. Guaranteed. GFM sells only within a 100 mile radius, and our commitment is the integrity of our products
Meet Our Vendors
Read our Vendor Bios and sort by category or read our Vendor Profiles for a more personal view
We Accept
SNAP/EBT
& 2x Bucks 
now during SATURDAY MARKET
With support from several local foundations, we are able to provide a SNAP match of up to $15, meaning that a SNAP customer using the match program would withdraw $15 from a SNAP account and receive $30 to spend at the Market.
OrangeCard Updates:
Funding for the ORANGE card Program has been completed as of 12/13/17. The Orange Card Program is subject to available funding. All ORANGE tokens should be used by the end of the year (December 30th, 2017). Any updates to the program will be posted here. 
News and Events at the Market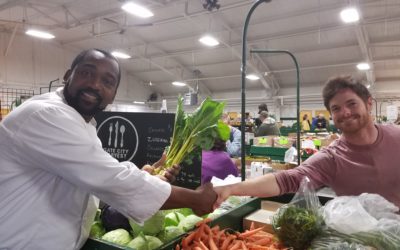 The Greensboro Farmers Curb Market (501 Yanceyville St.) announce two upcoming Local Food Demonstrations and Tastings. These demonstrations include recipes that are made from more than half of ingredients available on the market day and are free to the...
read more
Support the Farmers Market
Volunteer, donate your time or supplies, or join our board to support your local farmers market
10lb bone-in short ribs 8lb ground sirloin 3lb pintos 3lb kidney beans 1.5lb red bell peppers 1.5lb yellow bell peppers 4 red onions 4lb crushed tomatoes 4lb diced tomatoes 0.5lb tomatillos 2oz chipotle chilis 4oz ancho chilis 1oz jaramillo chilis ½ cup Heinz chili...
read more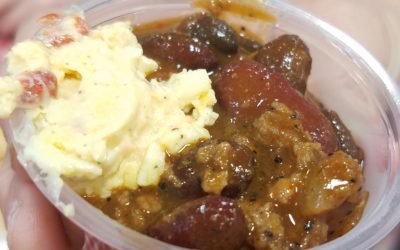 Cornerstone Farm's Chili 1 lbs  hot or mild sausage (Armstrong Artisan Farm) 1 lbs Hamburger  From Armstrong Artisan Farm 2 cans kidney beans 15 oz 2 cans black beans    15oz 1/2 medium sweet onion (diced)  2 cups tomato sauce 1 cup crushed tomatoes  1 bag of...
read more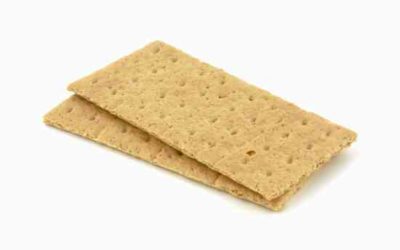 Grits Crackers 1 Cup Old Mill of Guilford grits 1 Cup all-purpose flour 3/4 Teaspoon salt 1/2 Teaspoon baking soda 1/4 Teaspoon cayenne pepper 2 1/2 Tablespoons cold, unsalted butter, cup into 1/4 -inch pieces 1/2 Cup freshly grated Parmesan cheese 2/3 Cup buttermilk...
read more