Spinach Salad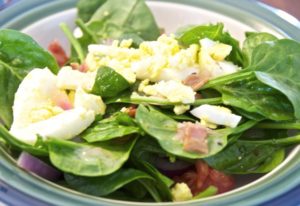 Ingredients:
1 pound bag of baby spinach
1 red onion, half sliced in 1 in. piece and other half reserved
4 roma tomatoes diced
5-6 button mushrooms, sliced
4 hard-boiled eggs, sliced
1 pound bacon, fried and crumbled with grease reserved
Hot Bacon Dressing
Ingredients:
½ cup bacon grease
½ cup red wine vinegar
2 tablespoons sugar
1½ tablespoons Dijon mustard
¼ red onion finely diced
2-3 garlic cloves, finely diced
½ teaspoon coarsely ground pepper
½ teaspoon salt
¼ cup bacon crumbles from salad
Directions:
Pour spinach into large bowl. Top with Salad toppings except for eggs.
Serve salad in individual bowls. Serve salad topped with eggs and drizzled with dressing.
Dressing
Pour ⅓ cup warm bacon grease through a coffee filter lined strainer into 2 or 4 cup measuring cup.
Add vinegar, mustard, sugar, salt and pepper.
Saute onions and garlic for 1-2 minutes in a tablespoon of bacon grease. Add onion and garlic to mixture of bacon grease and vinegar.
Whisk together. Add a splash of water if needs to be thinned a bit.
Add bacon crumbles and stir before drizzling over salad.
Deviled Eggs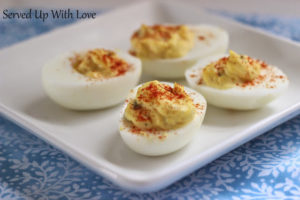 Ingredients:
6 hard- boiled eggs
1/3 cup mayonnaise
1 tablespoon of mustard
1 tablespoon of relish
Salt & Pepper to taste
Paprika for garnish
Directions:
Place your eggs in a saucepan and cover with cold water.
Bring to a boil for one minute, remove from heat and cover for 12 minutes.  After 12 minutes, remove the eggs and place in a bowl of ice water.
Peel and remove the shell. Slice the egg in half and remove the yolk and place in a bowl.
Mash the yolk and add the remaining ingredients.
Spoon or pipe the filling into the egg. Garnish with paprika.  Keep chilled.
Tomato Pie with Cheese and Pesto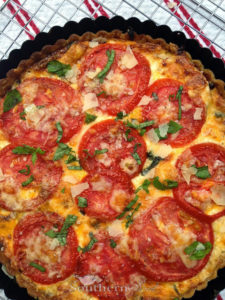 Ingredients:
4-5 large tomatoes
1 pie shell
1/3 cup of thinly sliced sweet onions
1/4 cup basil pesto
1/3 cup mozzarella cheese – shredded
1/3 cup Parmesan cheese – grated
4-5 large basil leaves – sliced into thin strips
1/2 cup good quality mayo – not salad dressing
1/2 cup shredded cheddar cheese
Directions:
Slice 4-5 tomatoes with skin on and place on paper towels to drain – about an hour or longer if you have time.
Heat oven to 400 degrees.  Roll out pie dough and place in pie or tart pan and trim edges.  Prick pie shell to prevent rising.  Bake for 8 minutes, remove from oven and let cool for about 20 min.
Layer onion on bottom of pie shell then sprinkle on grated mozzarella and Parmesan cheese to form an even layer.
Spread pesto over cheeses.
Layer half the tomatoes over pesto in a circular pattern overlapping.
Mix mayo with grated cheddar cheese and spread on top of tomatoes.
Sprinkle on fresh basil.
Layer remaining tomatoes over basil.
Bake at 400 degrees for about 25 minutes minutes.  If the edges get brown early, put a pie ring on top or use a homemade one made out of tinfoil.
Remove pie from oven and sprinkle on additional Parmesan cheese.
Allow pie to rest at least 30 minutes, sprinkle on basil, slice and serve.
Recipes adapted from Donya from A Southern Soul.