Raw Vegetables and Healthy Ranch Dip
Ingredients
1 package dry ranch dressing/seasoning mix (we used Cornerstone Garlic Farms)
8 ounces plain Greek yogurt
2 tablespoons mayonnaise or sour cream (optional addition for thickness)
Assorted raw vegetables, cut into matchstick or bite-size pieces (we used kohlrabi, carrots, and bell pepper but include any combination of cauliflower, broccoli, snow peas or other favorites)
Directions
Mix dry dressing package with yogurt and mayonnaise or sour cream. Best is prepared up to 24 hours in advance and chilled in refrigerator.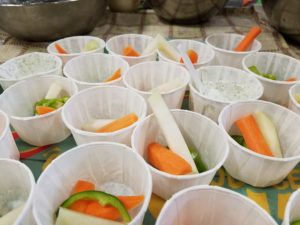 Vegan Stir Fry
Ingredients
1 – 2 tablespoon oil or vegan butter substitute (we used grapeseed oil and vegan butter)
1 tsp sugar, to taste
Himalayan salt, to taste
1-2 tsp seasoning mix (we used Sir Charles's Gourmet Sauce dry all-purpose seasoning mix)
1 small onion, peeled, cut in half and sliced
2 – 4 cups of seasonal vegetables, sliced into bite-sized pieces (we used collards, Swiss chard, green onions, napa cabbage, bok choi, turnips, and carrots)
Directions
Put oil or butter in skillet or wok, over medium heat. Add onion, cook 1-2 minutes to brown slightly. Can add a few teaspoons fresh minced garlic or ginger (to taste) here if available. Add vegetables according to density – turnips and carrots will take 5-7 minutes to cook, greens can take 2-5 depending on taste and degree of doneness preferred. Sprinkle with seasoning salt, salt and sugar to taste. Serve over rice.