Greensboro, NC– Greensboro Farmers Curb Market (GFM, 501 Yanceyville Street) is seeing signs of Spring in the Market — with the arrival of tender spring produce including salad greens, kale, arugula, mustard greens, spinach, bok choy, radishes, herbs, spring onions, green garlic, tender spring chicken and other pasture-raised meats, and vegetable starters for the garden.  "One may only think of the farmers market for its summer bounty like corn, tomatoes and watermelon; but we also want to invite the larger community to discover their local Market offers a year-round hub of locally- sourced food from 100 miles (or less) from Greensboro," notes the GFM Executive Director/Market Manager Lee Mortensen     Every week customers shop for staples: pastured-meats, eggs, local dairy, breads, mushrooms, flowers, root vegetables and now new spring produce arriving. With a nod to the change of seasons, the Market is also ramping up educational programs with free weekly tastings and cooking demonstrations, community breakfast fundraisers, and the return of Mid-Week Wednesday Market.
Local Food Tastings & Cooking Demonstrations in "Cooks Corner" Kitchen
Saturday March 10: Guest chef Steve Terrill will feature spring arrivals and locally-sourced ingredients to make three fresh salad dressings in 10 minutes!
Saturday March 31:  Ninevah Murray (of Make This Yours NC) will use seasonal ingredients that are locally-sourced to make an easy, yet tasty, Easter celebration dinner.   (http://www.makethisyoursnc.com)
Saturday April 14:  Amy Peddie, proprietor of Greensboro based Fermentology, will offer an educational class on fermented foods and their positive impact on the body.  (https://www.gsofarmersmarket.org/project/fermentology/)
Saturday April 21: Guest chef Chris Scalici (of Artistic Cuisine) will share expert advice on dinners for the week that are advantageous for every age and stage of life—from young and/or single cooks, to empty nesters, to active families with children.
Saturday April 28: Guest chef Steve Terrill Steve will present several easy recipes with asparagus.
All Demonstrations are free and scheduled as drop-in events in "Cooks Corner" at 10-11:30 am unless otherwise noted.
Community Local Food Breakfast Fundraisers
The Greensboro Farmers Market hosts a monthly fundraiser to support the non-profit operations, subsidize vendor table fees and contribute to food security programs. These fundraisers offer an opportunity to learn more about local foods, meet our guest chefs, and enjoy a community breakfast at the market hosted either in the Cooks Corner Learning Café or on the Lawn-on-Lindsay during warm weather.
The Market will host a Biscuit Breakfast Bar on Saturday, March 17th from 8:00-11:30am or while supplies last.  Chef Chris Scalici of Artistic Cuisine (http://www.artisticcuisinecc.com/home.html) will make scratch biscuits featuring NC grown and milled Lindley Mills flour. One can choose from a variety of market-sourced and locally-produced toppings, Neese's Country sausage products and Sweet Morning jams and jellies. The Biscuit Bar fundraiser starts at $5 per plate and is first-come, first-served.
The Market will host the Gritty Blues Breakfast on Saturday April 7th, 8 -11:00 am, while supplies last. The Undercurrent (https://undercurrentrestaurant.com/) restaurant will offer their Southern take on all things grits. Featuring Old Mill of Guilford grits (available at the Market every Saturday) Grit bowls will include several choices of delicious locally-sourced toppings from Market ingredients. The cost starts at $5 per bowl as a donation to the Market.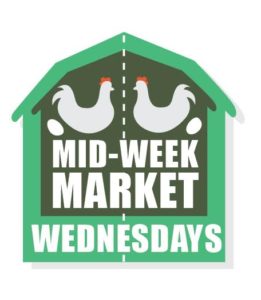 Wednesday Market Re-opens April 18th from 8am-1pm
The seasonal Mid-Week market will open at 8am on Wednesday April 18th and scheduled through December 19th.  Farmer (and home cook) Natalie Foster of Cornerstone Garlic Farm (https://www.gsofarmersmarket.org/project/cornerstone-farm/) will host a free cooking demonstration on sautéing Spring veggies from her farm and will share her best tips on healthy greens.